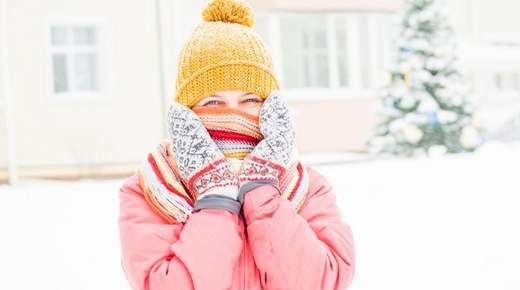 If you live in a place that gets cold during the winter, then it's not just the winter blues that you need to beat.
When the temperatures drop, your skin can become dry and cracked. Cold winter air also tends to be drier, which sucks the moisture out of the body. And if the wind picks up, any exposed skin is likely to suffer even more.
To help protect your skin during the winter, while still leaving room for some outdoor fun, check out these winter skin tips.
Taking Care of Winter Skin
Stay moisturized. Use a high-quality lotion on any areas that are exposed while outside, such as the face and hands. You can also apply moisturizer to other areas of the body that become dry in the winter. Apply the lotion while you skin is moist. If you have sensitive skin, try products with natural oils such as canola and coconut oil.
Protect your lips. Your lips will also suffer in the winter weather, so keep a lip balm handy whenever you go outside. Choose one with sun protection — an SPF of at least 15.
Bathe sensibly. A hot shower or bath may feel great in the winter, but it can break down the lipid barrier in your skin, leading to drying. Try using lukewarm water instead, and turn up the temperature of the room. Avoid harsh soaps, including bubble bath, which can dry out the skin. If your skin is irritated, try a lukewarm oatmeal or baking soda bath.
Go with cotton. Wool is very warm, but can be irritating on the skin. If you are wearing wool gloves, socks or a sweater, try a thin cotton, silk or synthetic layer underneath to protect your skin. If your socks or gloves get wet, change them as soon as possible to avoid cracking, itching or sores.
Wear sunscreen. It may be cold and the sun less bright, but the sun's ultraviolet rays can still burn your skin. This can be worsened by sunlight reflecting off snow and water. Before you head outside, apply sunscreen to exposed areas of the body.
Stay hydrated. Keep your body moisturized on the inside by drinking plenty of fluids and eating lots of fresh, water-rich fruits and vegetables. If your house is dry during the winter, you can also place one or more humidifiers throughout to keep the humidity levels up.
Every person's skin is different, and there are many products to choose from. To find something that works for your skin, talk to your skin care specialist. In addition to finding out which lotions, cleansers and sunscreen are right for you, you will also get tips on how to care for your skin during the winter months.